Commitment to 100% plant-based products
Azabujuban Yakuzen Curry Shinkai offers "Vegan and Vegetarian Yakuzen Curry" made with 100% plant-based ingredients in some of its curry dishes.
As of January 31, 2022, the restaurant received "vegan certification" from NPO Vege Project Japan and began offering three types of vegan/vegetarian Yakuzen Curry.
Vegan and vegetarian options
We have long wanted to develop a vegan curry, as we believe that our healthy medicinal herbs curry has a great affinity with the needs of "vegetarians" and "vegans," which are increasing year by year in Japan.
As we have been pursuing "tasty and healthy curry," it has been a challenge for us to create satisfying tastes without using animal-derived ingredients.
The vegan Yakuzen Curry has been certified vegan by VegeProject Japan, a non-profit organization, and is made with 100% plant-derived ingredients. Customers who are looking for a vegan meal can enjoy it with peace of mind.
By offering vegan and vegetarian medicinal curries, we hope that even more people will enjoy our curries and be pleased with them.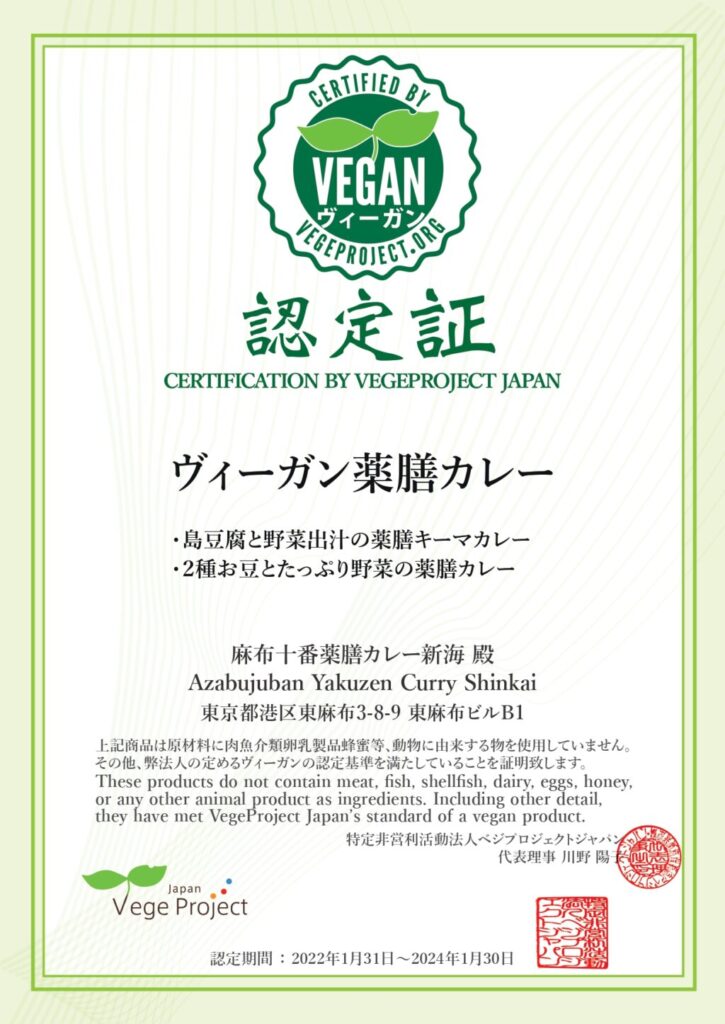 Vegan Yakuzen Curry Introduction
We are now selling frozen medicinal curries in our online store for customers who live far away from our restaurant and for those who want to enjoy our vegan medicinal curries at home.
Also available in 100% vegetable